This post is inspired by Josie's Writing Workshop over at her Sleep Is For The Weak blog.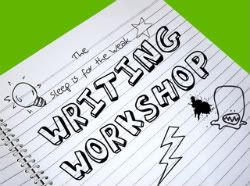 The best piece of advice I have ever been given came to me  in the middle of Wales in 1993. By a guy whose name I can't even remember.
I was coming to the end of my university course and it hadn't been the fabulous experience I'd expected. Brought up in the 80s on a diet of Johnny Ball and Tomorrows World (when it was good) I was fascinated by how things worked, so I'd chosen to do a physics degree. But the reality was very different – apart from one afternoon a week in the lab, the rest of the course was just maths, really hard maths.  Half way through the course my confidence was at a low and I dropped out. I was talked back by a tutor and ended up taking physics with a medical physics option, which was an improvement because it was using science to make ill people better. All that maths had a practical use at last.
By 1993 I was coming to the end of my course and, even though life was better with medical physics, I wasn't going to get the grades I needed to actually be a medical physicist. The recession was just about at its worst so there were next-to-no jobs out there.  At that time I felt I'd have been better off if I'd left school at 18 and got a job – at least I'd have some useful skills.
We went on a residential course somewhere in mid-Wales a few months before we took our final exams. The physics department had invited an ex-student back to give us a presentation on life beyond the University of Wales. He'd got a physics degree, but like me he hadn't been the natural born scientist he'd hoped to be.  He'd done some more studying and become a Master of Wine. Despite doing something completely different from his degree, he said that his physics had come in useful. Especially when he had to learn about the technicalities of producing wine.
"Nothing is ever wasted", he said.
Just four words, but it gave me hope that the tough previous three years hadn't been for nothing. Those words have come back to me whenever I've come to a crossroads and wondered if the path I've taken to get there was a waste of time and effort.
Like the time I realised, even thought I'd spent a year getting qualified as a teacher, I didn't actually like being a teacher.  A couple of years later I got a job training teachers in IT,  using what I knew in a way I didn't expect. And it led me into a whole new career in training.
Then there was the day I realised I couldn't go back to my full-time training job when my maternity leave ended. Was that the end of my career? I kicked myself for not seeing it coming and making better plans. But over the next few months I realised that six years as a freelance trainer was actually pretty good preparation for life as a self-employed mum.
As the man said, nothing is ever wasted.
So if you happen to know Master of Wine who is in his early forties and has a BSc in Physics with Astrophysics from the University of Wales, please let me know. I'd like to say thank you.